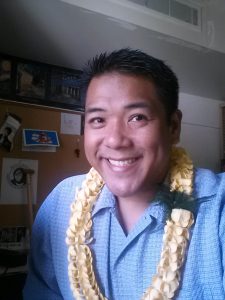 The use of video games for education is not new. There are many that have issued the call to use serious games for learning and research. Yet many instructional designers are not ready to give their full blessing on the use of video games for learning.
Perhaps this is where the work of researchers such as Eddie Gose comes in. Eddie Gose and Michael Menchaca, of the Educational Technology department at the University of Hawaii presented research on video game research at the E-Learn 2014 Conference.
In their award winning paper, Video Game Genres and What is Learned From Them, the authors describe their research around the possible benefits of defining genres of video games, and the associated learning constructs of video games. The following is an audio only interview with Dr. Gose about his current research, and the experience of winning a paper award at E-Learn. Click below to listen to this audio only interview with Dr. Gose.
Eddie Gose is an Instructional Designer at the Distance Course Design & Consulting group at the University of Hawaii at Manoa. He has a Ph.D. in Education with an emphasis on Educational Technology. His dissertation was on video games and learning. Other interests include learning through new media technologies.
References